Top 7 Classroom Workstations
5:41 PM
Non-teachers just do not understand what is like to juggle IEPs, 504s, various levels of children, within a diverse community like a classroom. It's like learning to juggle ... knives ... with flames ... with one hand ... while 28 people are asking "What next?"
To be completely honest, I didn't have a clue how to instruct small groups in ANYTHING when I started my teaching career. I was too proud to ask and was just too plumb-tuckered out to take on one more thing. What I hadn't realized was how much instruction time I was actually missing! I became a rockstar small group teacher within a few years (with a TON of support and practice/study).
However, I forgot one small detail ... what were the other 22 students doing when I had my 6-kid small group going on. Bring in CENTERS! These were places in my room that I put various engaging items to keep my kids busy while I worked on guided reading or guided math.
The secret was that it wasn't that engaging.
These centers became harder to keep up then just letting my kids read.
I hated them.
Really.
Hated.
Them.
After reading up on how to keep kids engaged AND learning while managing to teach another group, I decided to change how I viewed these centers. Instead, these became WORKSTATIONS.
What's the difference?
Centers = place to complete something
Workstation = place to practice concepts in different ways
When I finally got my mind around WHAT these places would be, it made the HOW so much easier. Instead of my kids completing an activity, they would have endless practice opportunities!
Here are my ...
TOP 10 WORKSTATIONS
7.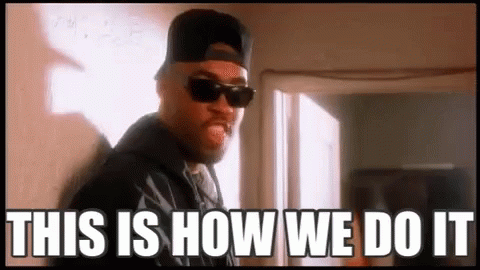 THIS IS HOW WE DO IT Station
This is basically a STEM for reading. Why? At one point, my district removed all science and social studies times from our teaching block. 3 hours for reading and 2.5 hours of math for our day. That was it. My team and I had to get creative so we taught all the core concepts, sooooo we did (as all teachers do).
What it looked like:
Kids would arrive and read about a given concept (usually non-fiction/scientific).
Next, they would be given templates to create something based on what they read.
Along with those templates was a writing piece as well.
There was also a small poster with the steps written out and with visuals to help students complete the item.
Since I was becoming handy on the computer, I created several Creation Stations that could be printed with low-prep.
6. LISTEN UP Station
Most people allow kids to listen to books with an audio piece. While that is GREAT, I liked mixing it up a bit and throwing in some music. I'd print out the lyrics from various songs, burn them onto CDs, and have the students listen to them.
On the lyric page students would have to do different things based on the skills we were working on in phonics/ELA/reading that week.
Here's what they were asked to do:
Find rhyming words
Find various vowel teams
Find various word families
Identify words with various syllables
Highlight prefixes
Highlight suffixes
Underline root words
Create a "Glossary" with words from the song
Circle blends
Rewrite a verse with synonyms using a thesaurus
Create a GO Chart (Graphic Organizer) describing the theme of the song
Write how the song made them feel
Write a story around what the song said
Write a new verse to the song
Make a list of nouns from the song
Make a list of action verbs from the song
Make a graph of linking verbs used. Which linking verb was used the most?
Y'all, it was pure bliss! These kids LOVED it. Super simple. Low prep. Boom!
5. THE THEATER, THE THEATER Station
Just so you know, I've never been a fan of "Reader's Theater" because ... well, I just don't like it. I've read all the articles explaining how beneficial it is for kids and their confidence. However, it just wasn't my thing. So, when I was told one year that we had to have it as a CENTER (yuck), I agreed ... kind of.
Instead of looking for a set that would be engaging to very few kids, or spending hours trying to find ON LEVEL material (knowing that those kids can't actually work together without my presence), I looked for an alternative.
Here's what it looked like:
Kids from different reading levels working as a team
Included all kids
Supported all kids
Was more rigorous than reading/rereading words
How it worked:
First, I would have a read-aloud/mentor text that I used throughout the week. Usually a picture book (yes, even in upper elementary).
Next, I would team kids up in their "Theater Troops"
I would put the picture book in the station with pencils and paper.
Starting on Monday, groups would reread the book. They would discuss the "players" and who would get each part.
Tuesday, kids would start WRITING THEIR OWN lines for the performance.
Wednesday, Theater Troops would make sure their writings were edited so they were easy to read/understand.
Thursday, practice!
Friday, Perform!
This became one of my favorite stations because of the community it built. The support from higher readers/writers for my progressing learners was so encouraging.
4. READBOOKS (RedBox) & #REVIEW Station
This station was for fun. Reading should be fun. There was no assessment or double-checking. It was a small display shelf with random books that I thought kids would like OR that I thought would get some of them to try.
Here's what it looked like:
I had a poster board that kids could hashtag something about the book.
On the board were the given book titles for the week. (It was limited to 10 books each week.)
Kids would pick and read the book.
They would then write a hashtag on a sticky note about the book.
Finally, they would hang their hashtag under the title on the board. That's it!
3.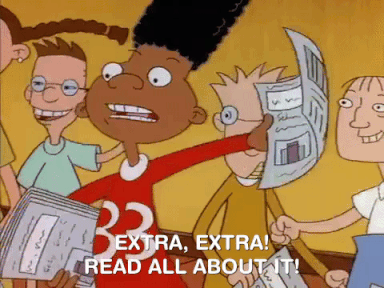 EXTRA, EXTRA, WRITE ALL ABOUT IT! Station
Writing was always a hard station to me. I felt like I could never keep up with keeping it up. I didn't know what to put out, I didn't know how to monitor, and I was terrified some kid would try to publish something with curse words. Seriously, it stressed me out.
As you can probably tell, I'm not conventional.
So, once again ... I decided to shake things up.
Here's what it looked like:
Editing Teacher Tweets
Making the longest sentences using adjectives (it was a competition)
Writing a rap for a rap battle based on a concept (flowers, John Henry, planets, etc.)
Writing an article for a magazine based on something the student was passionate about
Writing from crazy prompts
Writing and performing a radio ad trying to sell something current
Making "Who/What am I?" riddles
Creating posters with facts from research to persuade classmates/school
Creating an Election Campaign with slogans and "If I'm elected ..." speech
Creating "How To" videos for YouTube with a written script
Keeping them guessing about what they will be asked to do was key for me. I would give 4 options for the month. Each week they could complete 1 part. It worked wonderfully with very little work on my side.
2. INTERACTIVE NOTEBOOKS Station
Remember how I told you our science/social studies block was removed? The concepts would still be on our standardized tests. We had to be creative.
I ended up creating full social studies units around the state standards. These were placed in this station. Each week was a different standard. Each week had several opportunities for creating an interactive notebook to show students' completion (and give us grading opportunities).
Here's what it looked like:
Monday - Read the comprehension passage and answer the questions by highlighting the text-evidence to support their answers. These also have an writing piece added. Usually, this took most of the time.
Tuesday-Friday - Interactive Notebook pieces.

All of the activities could be done in pairs, teams, or independently.
All activities had written instruction.
All activities followed a pattern of steps.
That was it. Believe it or not, this was a HIT in our rooms. If you'd like to see these resources, you can
click here to visit my store!
I ended up creating the entire curriculum for my year! Whew. It was worth it.
1. WORD UP! Station
This is just the word work station. Why would I put that at number one? Because without knowing phonics, comprehension will fail.
I was introduced to word work with a weekly system that honestly BORED ME! I couldn't imagine how bored the kids were with it. Bless their hearts!
I amped it up a bit in my room. It cost a little bit of money, but it was TOTALLY worth it.
Here's what it looked like:
Kids got to choose their medium
It worked for ALL levels
Kids never asked "What do I do now?" because it is NEVER-ENDING
How is that possible? I explain that there is no station that you finish. These are places to practice. Practice never ends. I had a box each week that had various materials in it to be used to practice writing their words.
Materials:
Rocks with letters on them - Spell out the words
Scrabble Tiles - Make all of your words connect like a crossword puzzle
Magazines (be careful that they are kid-friendly) - cut out the letters and glue them onto a page to make your words
Shaving Cream - Spray on desk and write words inside
Play Dough & Letter Stamps - Stamp your words into play dough
Kinetic Sand & Stick - Write your words in the sand
Crayons - Rainbow write your words
Water Color Paint & White Crayon - Write your words with a white crayon all over a piece of white paper, then paint over the words with your watercolors.
Letter Stickers - Stick letters on paper to create words
Morse Code - Dots and Dashes to make words
And that is it ... for now ;)
Were any of these your favorite? Do you hate any of them? What would you add? I'd love to have more options!