Organizing Student Materials
2:09 PM
All. The. Things.
Isn't that how it feels at the beginning of the school year? All the paperwork. All the materials. All the procedures.
Wouldn't it be wonderful to have it ready to go when you entered the classroom in August? I'd LOVE to give it to you. However, I'm not a genie. Sorry.
BUT ...
I can give you some ways to organize student materials that will minimalize chaos and maximize calm.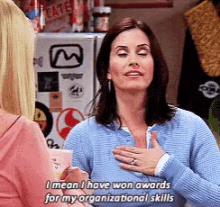 Top 5 Ways to Organize Student Materials:
1. Desks
Nope. It isn't a cop-out. If you have desks in your room, MAXIMIZE it with great organization.
Have you seen these trays from Dollar Tree? You can order them online in various colors. I mean ... we're teachers... we love color.
"But what does that have to do with desks?"
Great question! I always had a "Desk Dump Day" at the end of each 6 weeks. This was the day that the students would literally tip their desks over and dump out the contents. It DROVE me mad seeing all of the materials that had been "lost," incomplete work, and random notes from parents that were never turned in.
Enter these trays.
They fit PERFECTLY in student desks!
Or this set from Really Good Stuff(c)
Student place their workbooks, papers, and folders in a bin. This becomes a "drawer" so they can pull everything out quickly and scan through it without having to "dump" their stuff.
2. Supply Box
This is where I would have students keep their pencils, scissors, glue, and whatnot. It was in a smaller box (usually from the Dollar Tree) and slid beside their "drawer." You can read about what goes into
STUDENT SUPPLY BOXES
by
clicking this link.
3. Book Boxes
I used to despise book boxes. I always seemed to get the class that couldn't handle using them. The boxes became the "junk drawer" of the classroom. However, once I made a plan of expectation and we practiced as a class, these little beauties became some of my favorite organizational options.
Now, before I go into too much detail, I'm going to post a few links. These are options that I have either used personally, or teaching friends of mine used.
Book boxes can be anything (including bags) that hold a student's personal reading material for a given amount of time. These can be resources that the teacher has offered from guided reading time, library books, or books from home. This is just a good place to keep up with them. Here are the different types I've experienced.
4. Community Supplies
At the writing of this post, COVID-19 was impacting the world. I DO NOT recommend this method in the current COVID climate. However, I would be remiss not to share this as a way to store excess supplies.
Some families are NOT OKAY with sharing supplies. I understand that. Other families think everyone should share. I understand that. I've tried both methods in my room. I'm just going to explain how my community versions worked.
--Table Group Supplies
This method only allowed each group to use the given materials at the cluster of desks. I had boxes similar to bath caddies that would house the supplies. I recommend getting these cheap and assigning "Supply Captains."
--Grab 'n Go Supplies
This method is where I housed ALL THE SUPPLIES in a large storage unit with each student being able to access the resources when needed. This is the piece I used to keep it organized. It had been donated to the school. No, don't pay that much. Yes, look on Buy-Sell-Trade sites.
5. Numerically
This may seem like a 'duh' thought to some, but maybe a 'mind-blown' thought to others. First of all, you need to know that I am very particular about organizing paperwork. I always put my students in alphabetical order and then numbered them. Everything was numerical in my room. We had numbered desks, line spots, book boxes, lockers, clips/cards, jobs, folders, mailboxes, backpack hooks, ... EV. RY. THING.
Why?
Mostly, this saved time when papers needed to be graded. I had a student who would go to the trays and organize each assignment in numerical order (students would write their number at the top.) By mid-year, I would have students return their papers and place them in the stack in numerical order. This helped when math questions asked to order sets of numbers with missing numbers (use every moment to teach.) This helped keep their papers private. After I graded, the papers were already in order, so writing them into the grade book took less time! Follow that up with a student placing said graded paper into the numerical mailboxes for pick up allowed papers to be given back more quickly. Seriously ... BEST HACK EVER.
While I know there are a TON of other options and ways to organize, these are my top 5. Do you have an organization method that is life-changing? I want to know!
Drop a line below!
Happy Tuesday!